With so many different cable handle attachment options on the market today, it's ALMOST impossible to choose just one (or at least that's been the case with me, lol).  Ever since I purchased my REP Fitness FT-5000 Functional Trainer, I've been absolutely determined to find the best cable attachment on the market!  Keep reading my Rogue Single Handle Cable Attachment review to find out if it's the worth the price!
I'm not going to lie, I'm a huge fan of Rogue Fitness and have been for quite some time. I easily become excited when they drop new products and always want to be one of the first to get my hands on whatever they offer. That being said, this cable handle attachment has been available for purchase for well over a year and I'm only just now bringing them into the gym.
When Rogue first released this handle, I was intrigued but wasn't sold on the idea of a 25mm grip featuring passive knurling (same specs as a Rogue Bella Bar). I was also taken back at the fact that each individual handle is $40 plus shipping and tax (that's right, they are NOT sold in pairs!!). Although I was basically unsure as to how I felt about the pricing and some of the design choices, I still couldn't help but notice how nice the cable attachment appeared to be. Well, I finally decided to bite the bullet and purchase a pair of them despite my initial hesitancy. I placed my order and 5 days later they showed up at my door!
Rogue Single Handle Cable Attachment Review
Taking a look at the handle construction, the 25mm diameter grip is machined from barbell steel and measures 5 inches in length. The handle features the same non-abrasive/passive knurl pattern that can be found on the Bella Bar, and Rogue has applied a black Cerakote finish to it (which not only looks great, but will provide excellent corrosion resistance). As stated earlier, I wasn't sure how the small diameter grip with passive knurling would feel, but after several uses I'm comfortable saying that I'm now a fan. While a thicker shaft with more bite to it might also make for an interesting setup (and maybe someday Rogue will offer one), I honestly have zero complaints with how this particular handle is executed.
Moving on from the handle, the strap portion of the attachment is comprised of doubled up and box stich reinforced 1.5" wide nylon strap webbing. I personally love that Rogue chose to go with strap webbing that'll actually give and form around the user's forearm, rather than dig in like most traditional cable handles tend to do.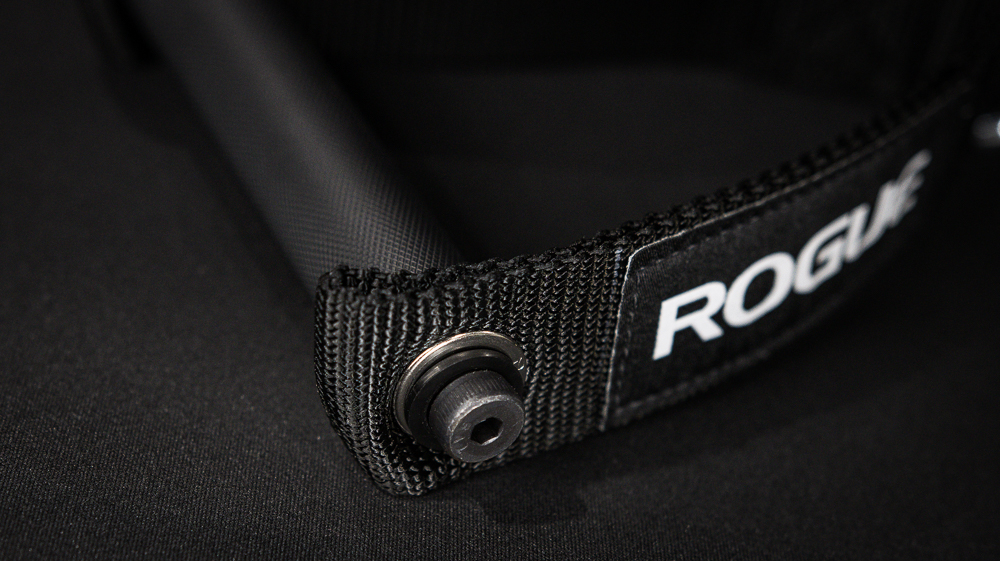 The grip portion of the handle is connected via shoulder bolts that pass through grommets in the strapping, which allows for smooth/independent rotation. Also sewn into the webbing is a generously sized zinc-plated D-ring which serves as the connection point between the handle and whatever you decide to connect it to.
While this cable attachment looks and feels incredibly durable due to the high quality materials it's constructed from, it does have a bit of weight to it. The handle comes in weighing 1.5lbs (mainly because of the solid steel bar stock used for the hand grip). I personally think the heft adds a more premium feel to the presentation, but I wanted to at least mention it in this article.
As previously mentioned, Rogue sells the handles individually, therefore you will need to remember to purchase two of them if two are needed. While it's certainly not a chore to change the quantity from 1 to 2, it's something I can see a lot of people overlooking.
Conclusion: Is it the best cable attachment?
Overall, these single handle cable attachments from Rogue are worth considering in my opinion. While certainly not the cheapest option, the noticeably higher build quality and excellent performance (paired with the fact that they're made in the USA) sets this attachment apart from most others on the market. The smaller diameter grip feels great in my hand, and Rogue's choice in passive knurling will easily appeal to a larger audience (as opposed to something more aggressive). I look forward to getting in some more time/use with them and will DEFINITLEY report back if any of my thoughts change. That's all for now; I appreciate you reading and hope you found this article helpful!