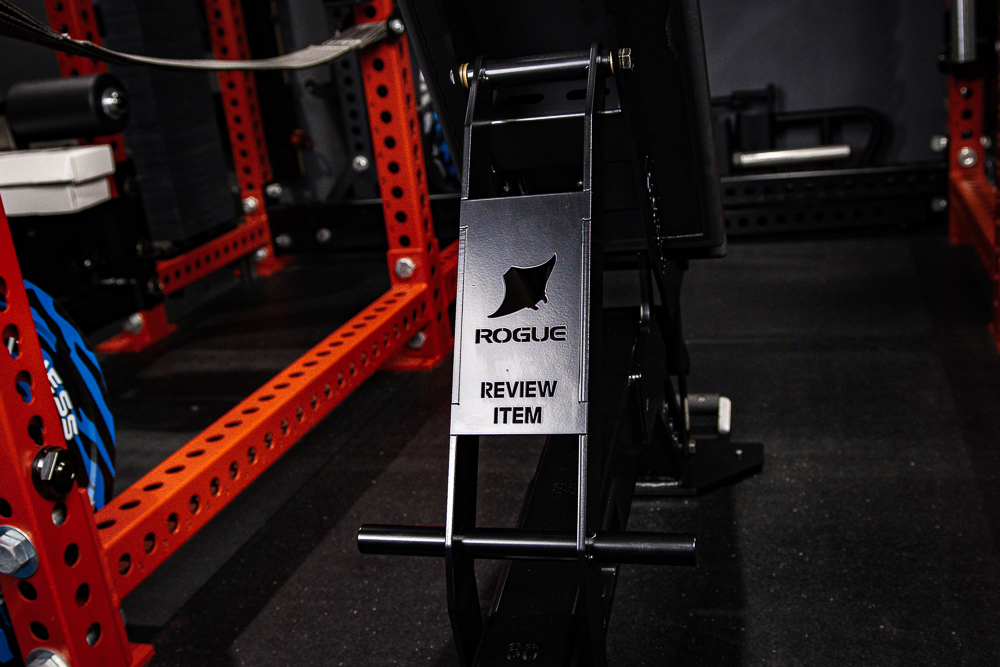 Buy Now – Rogue Manta Ray Adjustable Bench »
Featuring Rogue's iconic over-the-top build quality and bold aesthetics, the Manta Ray Adjustable Bench is undeniably one of the baddest looking FID benches to emerge in the market! But does that mean that it's the best adjustable weight bench for you and your home gym? Continue reading my Rogue Manta Ray Adjustable Bench Review in order to find out!
Prior to delving too deeply into this Manta Ray Adjustable Weight Bench Review, I want to make it known that Rogue sent me this bench for review and feedback purposes. They reached out to me on Instagram and naturally I jumped at the opportunity. The bench was delivered via freight a few months later, and it has seen continuous use since its arrival. I felt like it was necessary to disclose this information verbally, just in case the words "review item" laser cut into the back adjustment didn't make it abundantly clear.
The Manta Ray is well-positioned within Rogue's adjustable bench lineup as it does an excellent job blending together what I feel are the most desirable aspects of both the 3.0 series and the AB-3, while also introducing its own distinct style.
Similar to the 3.0, the Manta Ray boasts a ladder-style adjustment system for both its backrest and seat pad, with approximately 1 inch of separation between the two. Additionally, both feature a 3-leg, low-profile front foot design with an integrated horizontal handle and a UHMW protected kickstand at the rear. In contrast to the 3.0, the Manta Ray is equipped to accommodate a foot catch, enabling users to execute decline exercises like sit-ups and presses. Although Rogue's implementation of the decline feature differs slightly from the AB-3, the underlying concept is essentially the same in that it has a built-in receiver at the head of the bench designed to hold a leg roller attachment in place via a pop-pin. It's important to note that the leg roller attachment is an optional accessory and is not included with the bench therefore must be purchased separately. In my opinion, it's hard to see why anyone wouldn't want to purchase the leg roller attachment when buying the bench since it's basically the key to unlocking the Manta Ray's full potential but obviously that's ultimately up to the buyer and their needs.
Now that I've briefly touched upon how the Manta Ray differs from Rogue's current adjustable bench offerings, let's talk specs and features.
The bench has an overall length of 57 inches and stands at a height of 17.5 inches. Its rear foot measures just under 25 inches, while the front foot measures 12 inches in width and features a unique manta ray shaped design (hence the name of the bench).
This low profile front foot design is quite ingenious in my opinion. Not only does it provide greater stability when in the decline position, it also minimizes interference with the users feet during benching.
Moving up to the top of the bench, the seat pad is 12 inches long while the backrest measures just over 39 inches in length and 12 inches in width (which is the same width as the pad found on the AB-3 and an inch wider than the 11" pads found on the Adjustable Bench 3.0). I will delve into greater detail about the pads in a moment as there is a lot to be said about them and like myself, I anticipate that many of you will be primarily interested in this aspect of the bench.
The bench's frame is constructed of 3×4 7-gauge steel and finished in Rogue's signature MG Black Powder Coat Finish. I'm unsure as to if Rogue will eventually start offering different colorways, but for now it's only being offered in black. Now the fact that this bench is made from 3×4 7-gauge steel is truly incredible when you consider that Rogue employs 2×2 and 2×3 11-gauge steel on their AB-3, and 3×3 11-gauge steel on their 3.0 – both of which are already incredibly sturdy benches. Just in case you're not familiar with steel thickness, a lower gauge means thicker steel. Essentially, the steel being used in the Manta Ray is nearly twice as thick as that of the other two benches.
While Rogue's use of thicker steel may result in an overall more robust and stable bench, it has also increased the overall weight of the product, which may or may not appeal to some people. Coming in at a whopping 140lbs, the Manta Ray is easily the heaviest bench I own and probably one of the heaviest I have ever used. Despite its weight however, the Manta Ray is surprisingly easy to maneuver and is not as unwieldy as one might expect.
Now I'm not entirely sure if this is due to the low and outward positioning of the handle on the front of the bench in relation to its body or if I'm just making stuff up in order to sound cool in front of my friends, but I will say that I was pleasantly surprised by how little effort it took to lift the the bench the first time I tried, and I have continued to relish in its lightweight feel ever since. While I'm on the subject, the handle on my review unit is a 3D printed prototype. The actual production model will come with an injection molded handle. While I would like to have seen a metal knurled handle here, especially since the handle on the front of the seat adjustment is metal and knurled….this isn't the end of the world in my opinion, just something worth pointing out.
Integrated into the Manta Ray's frame is a ladder-style system for adjusting both the backrest and seat pad. I personally prefer ladder systems as it allows for quick and easy one-handed adjustments unlike pop-pin systems. Of course, this is ultimately subjective and based on personal preferences. The ladder-style system found on the Manta Ray bench is unique in that it is built directly into the frame using machined UHMW, rather than the typical metal add-on ladder brackets seen on other benches. By implementing an internal adjustment mechanism, Rogue was able to increase the number of incline/decline positions while maintaining a cleaner look and reducing the number of components needed. The Manta Ray bench offers five seat settings, ranging from -20 to 30 degrees, and ten back pad settings, ranging from 0 to 85 degrees. With this range of adjustments, users have access to up to 50 possible configurations. To make it easier to identify the various angle positions, Rogue has included laser-cut degree markings on both the top and front sides of the frame, which is a nice departure from the side markings typically found on other benches.
At the back of the bench, you'll find a UHMW padded kickstand that allows for upright storage while also preventing any direct metal contact or creasing of the bench pad. Additionally, there's a set of premium caster wheels that make it easy to move the bench around. Finally, Rogue has also included rubber discs at the bottom of the bench to provide protection to both the floor and the underside of the bench while reducing the possibility of slippage.
Circling back to the bench padding. It is quite firm, which I personally prefer and features a grabber-style vinyl exterior. This grabber-style covering is identical to what is being utilized on the Thompson Fat Pad, as well as what elitefts uses and calls their "gripper pad" covering. It has a premium and durable rubber-like texture to it making accidental slippage a thing of the past. Once you're into position, you stay locked in place until the lift is over. Prior to utilizing this grabber-style vinyl, from what I gathered Rogue was originally contemplating using a 12" wide version of the premium textured foam pads that can be found on their 3.0 benches. Despite their exceptional quality, the premium foam pads fall short in providing adequate grip. When giving my feedback to Rogue, I emphasized the poor grip on the bench pads as my main concern. Fortunately, Rogue was extremely receptive and responded positively by swapping production over to this new grabber-style vinyl covering, effectively eliminating the issue. Since providing feedback, Rogue has shipped me out a sample of their production pad (which is what I have installed on my bench) and they are seriously phenomenal!
After having analyzed every inch of this work of art known as the Manta Ray, let's explore what I believe its intended purpose and target audience to be, and whether it justifies the hefty price tag Rogue has attached to it. These are obviously just my opinions and most are purely speculative, but here we go!
As far as its intended purpose, I see the Manta Ray as having the potential to replace the AB-3. Its superior aesthetics and functionality make it an overall better choice in my opinion, and I wouldn't be surprised if Rogue eventually phases out the AB-3 in favor of the Manta Ray. Those who currently own and adore their AB-3 might not agree with me, but I stand by my assessment and refuse to retract my statement. It is difficult for me to understand why someone would choose the AB-3 over the Manta Ray given the ladder-style adjustment system, narrower seat gap, sturdier construction, and the fact that Manta Ray's reduced flat rate shipping cost makes it a more cost-effective option compared to the AB-3, which only ships via freight. I guess if you happen to find pleasure in using a pop-pin system and are not particularly bothered by the bench's outdated design, then the AB-3 could be a suitable option for you.
This brings me to my next point – who is Rogue's target audience for this bench? Well, it's logical to assume that anyone considering purchasing the AB-3 would have the Manta Ray on their radar simply due to the fact that they are already willing to invest a considerable amount of money in a bench.
Personally, I view this bench as more suitable for commercial settings rather than residential, primarily due to its exceptionally sturdy build quality and much higher price point compared to other available options. However, this shouldn't and most likely won't discourage anyone from adding it to their home gym. In my opinion, Rogue's 3.0 series is probably the more practical choice for most individuals, unless they desire the absolute best and cannot go without decline work.
My third and final point pertains to its higher price tag. As I've stated in previous reviews, how and where people spend their money when it comes to gym equipment ultimately depends on what they value most. For some, that might be trying to find the absolute best adjustable bench that money can buy, while others may choose to skimp out in this area and invest more into a power rack. It all boils down to personal preference and having a variety of options and different price points available to use as consumers should never be looked down upon in my opinion. If this bench isn't for you, then move on to something that better aligns with interest and budget. Like I said, I feel like the AB-3 is an inferior bench in most every way, yet Rogue has demanded and received a premium on it for years! This Manta Ray offers so much more bang for the buck in comparison at a slightly more affordable all-in price point. That alone should get people excited because rarely do you ever get more for less money as time goes on, it's usually the other way around!
Conclusion: Is the Manta Ray the best FID bench?
I'm going to wrap this Manta Ray Adjustable Bench review up, I want to share my overall thoughts on the Manta Ray and touch upon a few more points that I think are worth mentioning. It probably goes without saying at this point, but I'm definitely a huge fan of this bench. The Manta Ray, like many other Rogue products, is complete overkill for the average gym-goer and probably even the most hardcore enthusiasts, but that's exactly why I'm drawn to it! I can confidently say that this is the most robust adjustable bench I have ever had the pleasure of using. It doesn't budge at all, whether it's set in a flat position or fully inclined, which gives me a lot of assurance especially under heavier weights. As with most of the equipment I choose for my gym, this bench aligns with my personal preferences, but of course, all of this comes at a higher cost. Premium American-made equipment just costs more in general and that's exactly what this bench is, premium in every sense of the word! If you're looking to stay within Rogue's lineup and want something with a comparable build but at a lower price and you don't mind losing out on a few features, then I highly recommend checking out Rogue's 3.0 series as it may better suit your needs. At the end of the day, regardless of the decision you make, you can rest assured that you'll have a sturdy bench that you can take pride in owning.